ENTRANCE FEE
VISITING HOURS
TRAVELING TIME
150 EGP per adult
9 AM - 5 PM
40 Mins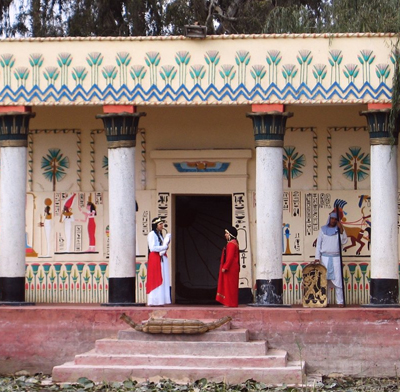 Imagine going to a place a few miles from the center of Cairo where Egypt entire history and art comes alive! Such a place exists in the Pharaonic Village, on Jacob Island in the Nile. The village is surrounded by trees which hide the bustle of the crowded city and provides the background for an ancient Egyptian village. In the village, you are transported by floating amphitheaters through a series of canals where the ancient Egyptian arts and crafts are brought to life by an incredible group of actors and actresses.
The village began as papyrus plantation, and was thus transformed into a living museum. Scenes that you will see include the scene of Moses as a baby in the marches, agricultural life, boat-building, house - building, pottery, glass making, making of statues and alabaster, perfume making, manufacture of papyrus - and the making of beer & wine. In addition, the village contains a complete replica of the tomb of Tutankhamun - exactly as Howard Carter discovered it in November, 1922. (This is the only place in the world where the entire tomb & its treasures can be seen).
The village also contains 10 other museums - Four related to the Pharaonic period The village is located in the Nile, on Jacob island, about six miles from the center of Cairo, and not far from most of the hotels. The village is open from 10am to 7pm daily. In the summer months it remains open until 9pm. A guided tour of the village can last from one to three and half hours depending on what you wish to visit.