faizehaakimi -

Textile Museum
| | |
| --- | --- |
| Entrance fee | 25LE per adult |
| Visiting Hours | 12pm to 6pm |
| Traveling time | 10-15 mins walk from Jame Anwar |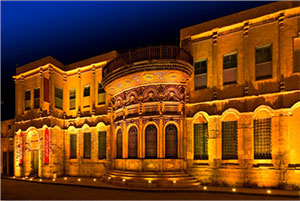 Long before Egypt was known worldwide for its cotton, Egyptians coveted linen and wool, using these textiles for everything from clothing and bedding to paying taxes with. To learn more than you thought there was to know about the history of Egyptian textiles, head to Muezz El Din Street and check out the Egyptian Textile Museum.
Two floors– almost overwhelming in size– hold an immaculately maintained collection of textiles, tools and other artefacts. The lights are low to protect the pieces, and the whole museum is temperature- and humidity-controlled! The Egyptian Textile Museum may indeed be one of the best-cared-for museums in Cairo.
Inspired by the floral and geometric embroidery of Coptic designs, the Umayids used many of the same techniques but changed all Christian imagery to Arabic calligraphy; a theme still popular to this day. As the exhibit continues, the beautiful collection of clothing and decorative textiles becomes more impressive and ornate with a brief step back to the politically volatile years of Mamluk rule. On the other hand, an increase in trade during this time also resulted in gorgeous silk work and European-inspired designs.
A room towards the end of the museum features a massive Kiswab. From early on in Islamic history until the 20 century, the black cloth hanging over the Kaaba in Mecca were made right here in Egypt. With thick golden thread embellishing the calligraphy over a black backdrop, this is one of the most stunning pieces in the museum.