faizehaakimi -

Giza Pyramids
| | |
| --- | --- |
| Entrance fee | 80 LE per adult |
| Visiting Hours | 9am – 3:30 pm |
| Traveling time | 45 min |
You won't want to miss one of Egypt s top attractions, the last surviving member of the Seven Wonders of the World, the Great Pyramid of Giza. There are in fact three main pyramids in Giza; the Great Pyramid of Khufu (or Cheops), The Pyramid of Kafhre and the smaller Pyramid of Menkaura. Each Pyramid is a tomb to a different King of Egypt. In front of the pyramids lies the Sphinx, or Abu al-Hol in Arabic, Father of Terror. Carved out of a single block of stone, this enormous cat-like sculpture has mesmerized millions of visitors.
Gizas three pyramids and the Sphinx were thought to have been constructed in the fourth dynasty of Egypt Old Kingdom, arguably the first great civilization on earth. For most of us that translates in to about 5000 years ago. Even though there is still debate about how the pyramids at Giza were built, most are in agreement it wasn t by aliens . It is believed about 20,000 laborers were used and approximately 2 million blocks of stone, each weighing 2.5 tons, just to build the Pyramid of Khufu.
Sound and light show at Giza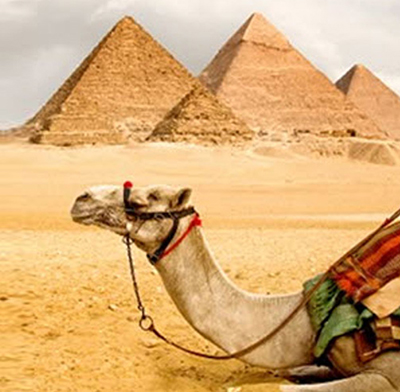 Have you ever wondered what life must have been like thousands of years ago? These thoughts of curiosity has inspired artists to take you there, for a brief period, through the creation of sound & light shows. You can get a glimpse back in time to see, feel, and imagine how it was when the powerful ancient Egyptians ruled. The artists have masterfully created a spectacle show that draws you in as part of history.